Amanda Terkel
at huffingtonpost.com
had an article about what Evan Wolfson
and Freedom to Marry have been doing since the
limited Supreme Court victory in June
...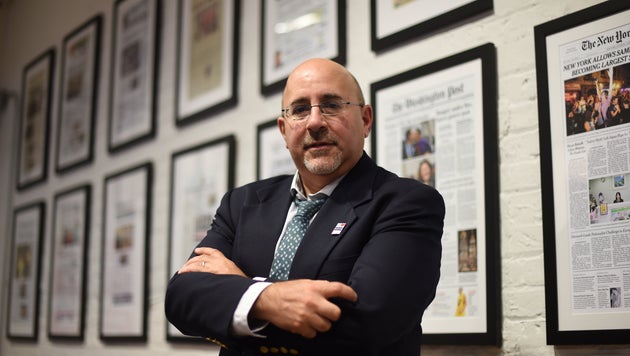 Timothy A. Clary/AFP/Getty Images
Since June, Wolfson and his colleagues have been carefully preserving as much as possible from their successful campaign. In an interview with The Huffington Post nearly a year ago, Wolfson said his plan was always for the group to engage in a "smart and strategic wind-down" when it was done. They hope that their resources will be of use not only for historians but for other activists on other issues.
As we've said before
, Freedom to Marry should keep working for
marriage equality
.
The resources include four key pieces: a new website serving as a clearinghouse; donation of materials to Yale University; an oral history project hosted by the University of California, Berkeley; and a "War Room"-style documentary about the same-sex marriage movement, set to be completed this spring.
Freedom to Marry's revamped site includes a long-form narrative history of the movement's most significant milestones, analysis of the movement's messaging and most effective ads, and resources for best practices for winning victories at all levels.
Let's keep going until
everyone
has their right to be together and marry!