Jillian Keenan
writes
at slate.com that polygamy should be legalized
, and this is drawing much attention.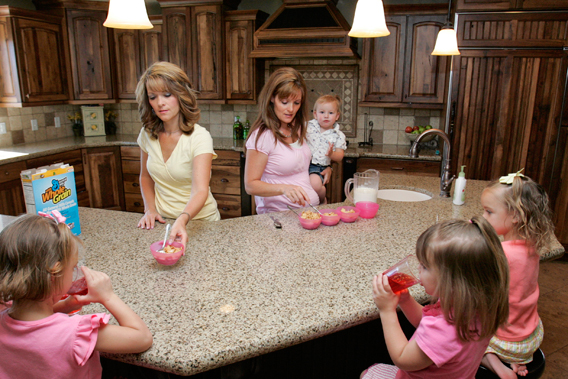 Sister-wives Valerie, left, and Vicki serve breakfast to their children in their polygamous house in Herriman, Utah, in this file photo from May 30, 2007. Photo by Kamil Krzaczynski/Reuters



While the Supreme Court and the rest of us are all focused on the human right of marriage equality, let's not forget that the fight doesn't end with same-sex marriage. We need to legalize polygamy, too. Legalized polygamy in the United States is the constitutional, feminist, and sex-positive choice. More importantly, it would actually help protect, empower, and strengthen women, children, and families.
Thank you!
But legalizing consensual adult polygamy wouldn't legalize rape or child abuse. In fact, it would make those crimes easier to combat.
Exactly!
Right now, all polygamous families, including the healthy, responsible ones, are driven into hiding (notwithstanding the openly polygamous Brown family on TLC's Sister Wives, that is). In the resulting isolation, crime and abuse can flourish unimpeded. Children in polygamous communities are taught to fear the police and are not likely to report an abusive neighbor if they suspect their own parents might be caught up in a subsequent criminal investigation. In a United States with legalized polygamy, responsible plural families could emerge from the shadows—making it easier for authorities to zero in on the criminals who remain there.
The focus of this piece is polygynous or plural marriage in the Mormon tradition,
but let's not forget traditional polyandry and various forms of polyamory.
Many people argue that there is no such thing as a "healthy, responsible" polygamous family, particularly for the children born into one. "Children are harmed because they are often set in perennial rivalry with other children and mothers for the affection and attention of the family patriarch," argued John Witte Jr. in the Washington Post. "Men with lots of children and wives are spread too thin," agreed Libby Copeland in Slate. The earnestness of these arguments is touching but idealistic. Men in monogamous marriages can't be spread too thin? Children in monogamous families don't rival each other for the attentions of their parents? Two-parent families are not the reality for millions of American children. Divorce, remarriage, surrogate parents, extended relatives, and other diverse family arrangements mean families already come in all sizes—why not recognize that legally?
Yes. Again, it is entirely legal for man to have children with multiple women. But he can't be legally married to more than one mother of his children at one time, even if all agree. How does that make sense?
Legalized polygamous marriage would also be good for immigrant families, some of whom have legally polygamous marriages in their home countries that get ripped apart during the immigration process. (It's impossible to estimate exactly how many polygamous families live here, since they live their religious and sexual identities in secret. Academics suggest there are 50,000 to 100,000 people engaged in Muslim polygamy in the U.S., and there are thousands of fundamentalist Mormon polygamist families as well.)
We're discussing immigration reform again in the US. LGBT
and
polygamous families should be reunited.
Here's the thing: As women, we really can make our own choices. We just might choose things people don't like. If a woman wants to marry a man, that's great. If she wants to marry another woman, that's great too. If she wants to marry a hipster, well—I suppose that's the price of freedom.

And if she wants to marry a man with three other wives, that's her damn choice.
We have a winner!
Let's stand up for the rights of ALL adults by adopting
full marriage equality
sooner rather than later. T
here is no good reason
to stop evolving now.
Legally, since marriage is mostly a financial/contract matter, we can look to existing frameworks used in law. A common example is a corporation, or a business involving three or more owners, or a rock or pop music band, where members share ownership and someone may leave or someone else may join.

Another aspect of marriage in many places is default paternity. This has resulted in anywhere from 10 to 20 percent of children being automatically assigned legal fathers who aren't biologically theirs, often without the father's awareness. We have DNA tests to sort that out now, although I understand there are some religious groups who do not allow their members to get DNA testing, but as I understand it, those groups are also officially monogamous, so wouldn't be an issue for them anyway.

See: